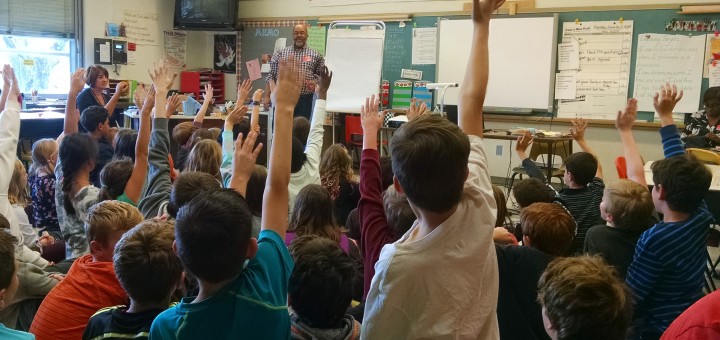 Everything we do is in collaboration with Classroom Teachers

The goal of all ENTA programming is "Teaching through the Arts."
All of our programs are developed in cooperation with teachers!   Everything we do is to further your teaching goals.
We help you enliven core subjects and allow you and your students to experience core subject matter in active arts-based environments that produce measurable results demonstrated by the engagement of students and the enthusiasm of teachers.
Sample List of Programs
A Book's Journey – students work with a wide range of publishing professionals – authors, illustrators, editors, designers and marketers – to develop skills in storytelling and prose writing to produce their own original book for young audiences. This program defines, demonstrates and teaches the major activities involved in the production of a book from the writer's mind to the reader's hand. The students interact with the various artists, participate in all roles and processes throughout the program to produce their unique book.  They learn the entire arc of careers in publishing and complete their studies with a visit to a local independent bookstore. Community and families are invited to our Meet The Young Author event to read the new books the students create and "market" at the event. This program has been hosted by the 4th grade at Chancellor Livingston School in Rhinebeck since 2006 and in the 5th grade at Red Hook's Mill Road School since 2015. 
Improvisation & History – students work with a theatre improvisation artist to learn how to act with what they know –rather than working from a script. The students research a historic event or time period and re-enact those events or actions of that time through improvised scene work.  This program has been hosted by the 7th grade of Bulkeley Middle School since 2012 for their Salem Witch Trials unit.  Fifth grade students from the CLS elementary school, as well as BMS peers, community members and families attend an informal performance of the Salem Witch Trials as performed by the 7th grade students.
Embody Art – an exploration of anatomy and figure drawing through lessons on movement and use of the human body. Dancers lead art & science students in movement exercises to better understand the skeletal structure, the inner workings of muscle, ligament, tendons and bones and how movement evolves into shapes, relationships and emotion that are captured in visual art. Piloted in 2015 in the Red Hook High School anatomy and art classes.  Program continues at RHHS. 
Taking A Stand: Social Action & Art – in 8th grade ELA class in Rhinebeck's Bulkeley Middle School since 2014, after reading "To Kill A Mockingbird" by Harper Lee (or other work that inspires leadership), students research an historic civil rights event or social change topic and develop a conceptual art piece based on their research. Students use natural s and recycled materials for their works.  Public art exhibit of student work extends the learning and social impact.  Gala opening of their art exhibit engages families & community members. 
A History Walking Tour of Rhinebeck – working in cooperation with local history organizations including the Rhinebeck Historical Society, the Starr Library, the DAR House, the Beekman Arms, Clermont Historic Site. Rhinebeck Firehouse and the Reformed Church of Rhinebeck, students, teachers and chaperones are taken on a full-day walking tour of Rhinebeck history and historic sites. They learn from role-playing actors and historians about the rich history of the Hudson Valley, particularly its role in the American Revolution.  Ongoing for Bulkeley Middle School students since 2013.
Sol Lewitt: Math, Language & Art – an ambitious endeavor, working in Math, ELA and Art classes, students learn the collaborative ways that these various disciplines intersect to create contemporary, conceptual art that depends on the precision of written language and the execution of mathematical concepts. This program was conducted with one entire grade level at all three schools in the Rhinebeck Central School District – elementary, middle and high schools. A public art exhibition and Opening Reception was hosted to invite the community to view the art created – which included two 42-foot long murals. Included a high school field trip to MassMOCA & Clark Museum.
Reader's Theatre – students develop reading skills, vocabulary, presentation poise and understanding of story elements through reading aloud and acting out stories. Conducted in the classroom with entire 3rd grade students at Chancellor Livingston School. Appropriate for all elementary grades.
Comedia dell'Arte – students problem-solve collaboratively and develop storytelling skills by acting improvised scenarios based on a cast of characters and their motivations. Conducted in the classroom with entire 3rd grade students at Chancellor Livingston School.   Appropriate for all elementary and middle school grades.
History of Rhinebeck Play – 2nd graders at Chancellor Livingston School acted in and helped write and produce this unique history of their home town with research from the Rhinebeck Archives at the Starr Library and literature from the Quitman House. Presented to their community and families in a public performance. 

Additional Programs we have dreamed about, but not yet produced.
Fiber Arts for Young Students – teaching knitting and crocheting in elementary school to engage young students in work that connects math, reading, fine motor skills with calming, coordinating mind-body connections.   We feel the use of this activity, once mastered by young students, will enable them to engage their hands and energy even while participating in quiet, listening learning situations where the teacher or other students are presenting verbal and visual material.
Math and Movement – engaging young students in using mathematical concepts with choreographed movement. Addition and subtraction, multiplying and dividing – using these basic concepts to create patterns, develop rhythm, and better understand the movement of numbers (and bodies) in various operations.
Movement, Improv and Reading – combining movement and improvisational theatre for a variety of reading and spelling applications – including inference, vocabulary development, spelling, reading comprehension, and more. "Acting out" or "making movement of" a variety of reading concepts.
Contact us to discuss YOUR DREAMS about Teaching Through the Arts! 
Send an exploratory email to us at:  enta4arts@gmail.com  or call us at 845-876-6880